Like every year we will welcome trick-or-treaters on Halloween. Our home will be spooky, my husband will be goofy and our dogs will be pounding in the backyard. 
Everything will be the same -well almost. One thing will be different and it will be obvious to everybody. We will have a teal pumpkin in front of our door, right beside the orange one.
A teal pumpkin is the sign that we welcome kids with food allergies, and it lets parents know that we will give out non-food and/or food allergy friendly treats.
Let me be honest here, I had never heard about the "Teal Pumpkin Project" until this year. The Teal Pumpkin Project was launched in 2014 by FARE (Food Allergy Research and Education) to raise awareness for food allergies and promote inclusion of all trick-or-treaters throughout the Halloween season.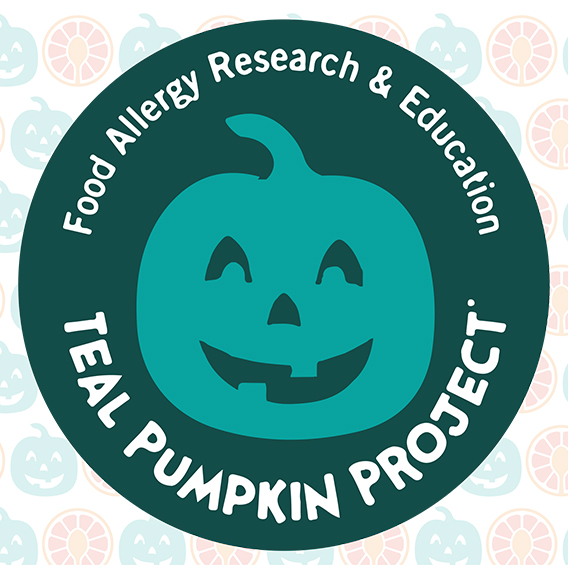 It all started, when one of our new neighbors introduced herself at our neighborhood meeting. She got up and told us about her family, she asked if she could give some of us a special bag with toys and treats for her children, who have severe food allergies. She wanted to make the special treat bag and bring them to our homes. Later on that night, we would give them back to her kids.
She told us about the teal pumpkins and she got my attention. An older lady got up, made us all laugh when she said her grandchildren were all too chubby and were in desperate need of some non-food related treats as well.
As so often in life, some of my neighbors found the idea of a teal pumpkin silly and uncalled for, others welcomed the idea of different Halloween treats and came up with all kind of good ideas.
And here a list of non-food treats:
Glow sticks, bracelets, or necklaces
Pencils, pens, crayons or markers
Bubbles
Halloween erasers or pencil toppers
Mini Slinkies
Whistles, kazoos, or noisemakers
Bouncy balls
Finger puppets or novelty toys
Coins
Spider rings
Vampire fangs (my favorite)
Mini notepads
Playing cards
Bookmarks
Stickers
Stencils
---
As many of you know, I fight my own battles with food these days. The way we eat, all the processed food makes us sicker and sicker. It's not the kid's fault that they have to deal with allergies. Every child deserves fun at Halloween.
And if you decide to have a teal pumpkin this year as well, please go the FARE website and add your household to the map and connect with other homes in your area that are participating in the Teal Pumpkin Project.