I love our kitchen, but it's rather small, and whenever I feel like I cannot live another day without a dishwasher, I look at the cabinet space I would lose and my desire for another appliance flies out of the window. 
Mostly I don't mind, but some days I feel rebellion against the neverending used dishes in the sink. My husband -bless his little heart- seems to think that helping with the dishes means to bring them to the kitchen sink. Dealing with the mess seems to be my job entirely.
I pick my battles wisely and having a fight over dirty plates is not one of them. However, somehow I wanted to let him know that he could take care of the dishes once or twice a year, perhaps even more than that.
I sat down and looked for funny kitchen signs online. Something that would make him smile, but also hopefully would get my message across.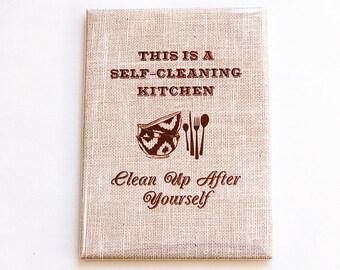 While I was still trying to decide with one to print, I found another one that made me rethink my plan.
Yes, we are lucky, we have food in our stores. We have jobs and make enough money so we can buy what we need. We have a home where we can cook and enjoy our meals. A lot of people are not that lucky.
Yes, dirty dishes are a sign of a good life I suppose. But it's not just mine, it's his too. (There we go again, the rebellious gene comes through.)