My husband is a picky eater. He searches for fat around the meat and pushes food, which he thinks might not please him, to the side. "I cannot stand the texture of fat," he says, and I can see the disgust on his face when he looks at my marbled ribeye.
He tried some of our bargain markdowns Valentine's candy, and he thought it was too sweet. Too sweet? Is that even possible? Not in my books. I eat everything.  I was raised to make happy plates; I was raised to eat what was served -all of it.
My husband grew up poor. His Mom, a single parent, raised three boys all by herself. Every dollar had to be stretched to the limit; his disgust for fatty meat started when he was very young. As soon as he was old enough, he enjoyed making choices. Finally, he didn't have to eat what was served anymore and could say NO and so he did. He only eats what he likes and rather throws lunch meat out, if he thinks it could be too close to the expiration date.
I don't even know what an expiration date is. I don't need a made-up date to tell me what I can and cannot eat. I sniff and smell and decide with my gut -what drives my husband bonkers.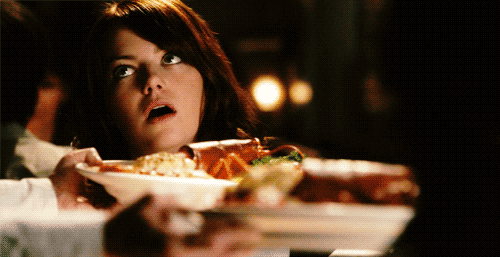 Interesting enough, I was raised similarly -most farm people are not rich. I was raised to eat what was served, and only my happy plates seemed to make everybody around me happy as well. In boarding school, lunch and dinner creations were often questionable, but we ate it.
The time to the next meal was long and snack food must have not been invented back then. "Eat an apple," was the response when one of us was hungry, and so we did. Some kids complained or traded their food. Me? Not so much.
When they served "Blood and liver sausage," a German dish, it felt like Christmas to me. I was a farm kid, of course, butchers had to use everything. I was the only one who liked blood sausage, and I ended up with a huge plate. I was full for days, skipped even a few meals afterward.
Being "picky" what does that even mean?
I am a human garbage disposal. I eat everything that doesn't eat me first. I am fearless and will try something new whenever I get the chance. Everything that runs, flies or swims has an opportunity to end up on my plate sooner or later. Trying new restaurants is very exciting for me. I order what I can't make at home. Why bother going out if I can cook it myself?
Traveling the world and being allowed to try new dishes was a special gift for me. I was fearless, even tried pancakes from a street vendor in Africa and quietly suffered Montezuma's revenge afterward.
Lately, for health reasons, I had to let go of certain foods.
I gave up dairy and eggs, limit my sugar intake to special holidays and enjoy now a gluten-free life. Fried food and junk food are not an option anymore -I prefer to live pain-free without medications.
I feel fantastic, and more than ever am I happy not to be a picky eater. I am trying new recipes whenever I can. It's almost like nature knew I would have to be creative with food one day, and so I got blessed with the Garbage-Disposal-Gene to make my life easier.
Healthy eating is a new adventure-and while my husband refuses to try most of it, he supports me in every way he can.