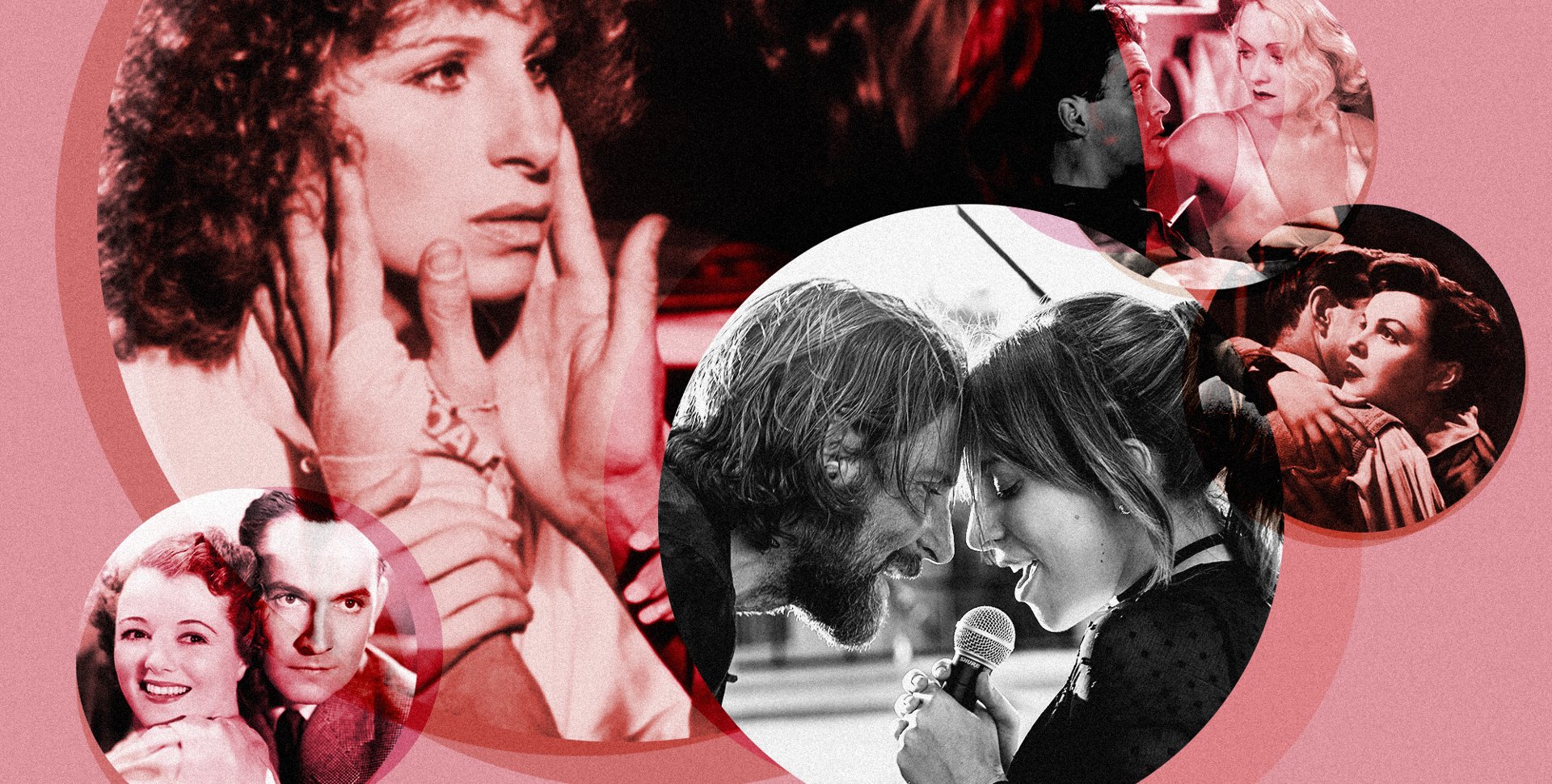 It's cold outside, the first snow has fallen, the ground is frozen and our outdoor activities are put on hold until spring. Museums visits, dinner and a movie, craft and cooking classes with our Meetup group, are on this winters calendar.
The first movie we watched together was A STAR IS BORN and I felt resentment right from the start. A remake of a remake of a remake. What surprises could the movie bring?
The first A STAR IS BORN movie I ever saw, was the one with Judy Garland and James Mason, a few years later I watched another version with Barbra Streisand and Kris Kristofferson. Both films while similar were slightly different. I never watched the first and original movie from the '30s. I need to put this on MY FILM LIST FOR RAINY DAYS.
Judy Garland's version takes place at a time when big Broadway shows and musicals were part of our culture, Barbra Streisand's version shows the music industry at a place with rock and pop concerts.
The ladies and their VOICES dictate the movies -the men, while both brilliant actors, stand on the sideline.
I didn't know what to expect but hoped for an interesting and totally different version, when we went to the movie theater. A couple of hours later I left disappointed and a bit annoyed.
First of all, before I forget, the film with Barbra Streisand and Kris Kristofferson is still my favorite -by a mile.
Now let's talk about the remake.
The storyline is the same. Older, banged up addict, meats a talented singer and pushes her in the limelight helps her to jumpstart her career.
The new A STAR IS BORN is too long -could have been easily shortened by about 20 minutes. Bradly Cooper, whom I happen to like as an actor, is not believable in the role as the drunk Jackson Maine and didn't convince me at all. Maybe he tried too hard, or perhaps it just wasn't the right role for him.
Lady Gaga can sing, nothing new here, her voice is clearly the winner. I am a big Lady Gaga fan and like her songs a lot. Would I buy the soundtrack? No!
Lady Gaga plays herself I suppose. Less make-up, different hair color but not for a  minute did I forget who I watched on the screen. While her name in the movie is "Ally" I watched Lady Gaga perform.
The storyline, that's when they really got to me.
The year is 2018! We just witnessed the #Metoo movement and women all across the globe get up, and finally, speak up. We are tired of being touched inappropriately! We are sick and tired of being pushed over. We still fight for equality!
And then along comes the new version of A STAR IS BORN.
In the movie, the older Jackson Maine touches Ally right from the start, when they meet for the first time and of course, Ally, perhaps a bit starstruck, lets him. He touches her nose, her hands, her eyebrows and later on, he forces her to sing on stage when he BORROWS the song she wrote, and he threatens to perform it without her if she doesn't join him on stage. It bothered me so much!
The movie is the typical stereotype. The man is rich, famous and in charge, the woman is poor, struggling and can't make it on her own! Can you tell how much I hate that?
It's the same story we watched a few years ago. The ending -or the way it ends was changed a bit- but the rest is still the same.
Hollywood had an opportunity on its hand and missed it. Why not write the story the other way around. Let Lady Gaga be the older, famous drunk who falls in love with a young man and let her, help him to fame and fortune? Take the story and shake it up a bit. Perhaps a totally different, provocative version with a gay couple, or maybe transgender artists -since the movie started in a drag queen club anyway?
A STAR IS BORN is an Oscar Bait film.  Hollywood played it safe and made millions with the new remake. Should the movie get awards? No -but it will. 🙂
But that all is, of course, is just my opinion and what do I know?