I went to the grocery store yesterday, and the amount of heavily loaded grocery carts people were pushing around shocked me. "Are we the only house with a pantry in our neighborhood?" I wondered. I concentrated on my own shopping list and tried not to be affected by the hoarding behavior around me.
I wanted to believe the guy buying twenty cans of tuna fish had numerous cats at home, and I hoped the lady trying to buy six cases of water -even though the sign clearly stated only two per cart- had burst water pipes in her house, and only needed so much water, because she just bought a new goldfish or any other kind of swimming creature.
Human beings don't ever disappoint, they continue to amaze me on a daily base.
My next-door neighbor is furious that she cannot buy any kind of small hand sanitizer for her purse. My smart-ass comment, reminding her that she told me five minutes ago she would not leave the house for three weeks, didn't help either.
Looking at the shopping carts of other people made me question my own shopping list. Do we have enough food at home for two weeks? Maybe I should load up the cart a bit more? I mean everybody else is doing it, shouldn't I?
What do they know and I don't? And what is it with the toilet paper?
In my mind, I go over our meal plan for the coming week. Corned beef and cabbage, stir-fried rice with shrimp, beef tips with noodles, grilled chicken with squash and mushrooms, turkey meatloaf, salmon with potato salad -just to name a few. All of it is at home -frozen- just waiting to be thawed out when its time.
Perhaps I am actually the only woman in our neighborhood who doesn't like shopping, and therefore plans meals for one or two weeks in advance? That must be it. I don't have another explanation.
We can easily live out of the freezer for at least three weeks. Our small pantry, on the other hand, looks a bit abandoned since I threw out all the unhealthy, sodium-filled cans, and other hearth-unhealthy processed food items.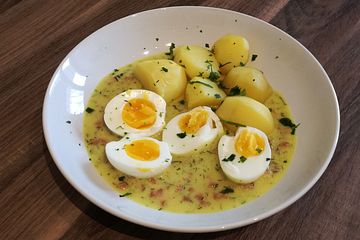 But still, we have enough to cook meals for two or three weeks. Perhaps not all of them would be fancy dinners, maybe I would even serve Austrian mustard eggs or my Grandma's ham noodles.
Still upset about the toilet paper, I grab a few babies wipes just to be on the safe side. We have enough toilet paper at home to last for two to three weeks. Again I wonder about the other shoppers and their shopping habits.
I leave the store with the amount of food I wanted to buy, plus baby wipes.
Maybe I should have bought more tuna fish?