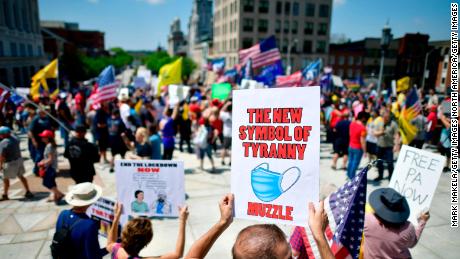 I am stunned by the number of people refusing to wear a face mask. I am actually ashamed to see what we have become. Men are holding up signs, saying "My body, my choice." Which would tickle me pink, if it wouldn't be so sad?
So far, we have lost 120,000+ people in this country due to the Coronavirus, still, this must not be impressive (or depressing) enough, because now people are on the streets protesting against wearing a face mask. What a sad state of affairs we are in.
Right now it's more important than ever to wear a face mask when going outside.
It's not about you!
It's not about me!
It's about our healthcare worker and emergency responders. They are exhausted. They are tired. They have worked overtime and double-shifts during the lockdown when the rest of us was safe at home.
We need to help them. We have to make sure we have enough hospital beds and ventilators available for the sick. This fight is far from over!
Slowing the spread down! That's our goal at all cost -yes, even if it means to be uncomfortable wearing a mask in the summertime. How can you not be able to understand?
This is not the time to play childish political games. This is not right vs left. Worship however you want blindly, but for heaven's sake wear a face mask by doing so. Use the little bit of common sense you might have left. Show empathy! Show sympathy.
This is not about you – This is not about me
COVID-19 is far from over. We are still in the middle of the first wave -which many seem to forget. Come fall, we might be in for a very bumpy ride.
Stop protesting, go home and wear a mask. It's really not that complicated!
And while we are at it, stop drinking Conspiracy Kool-aid! It messes with your brain!