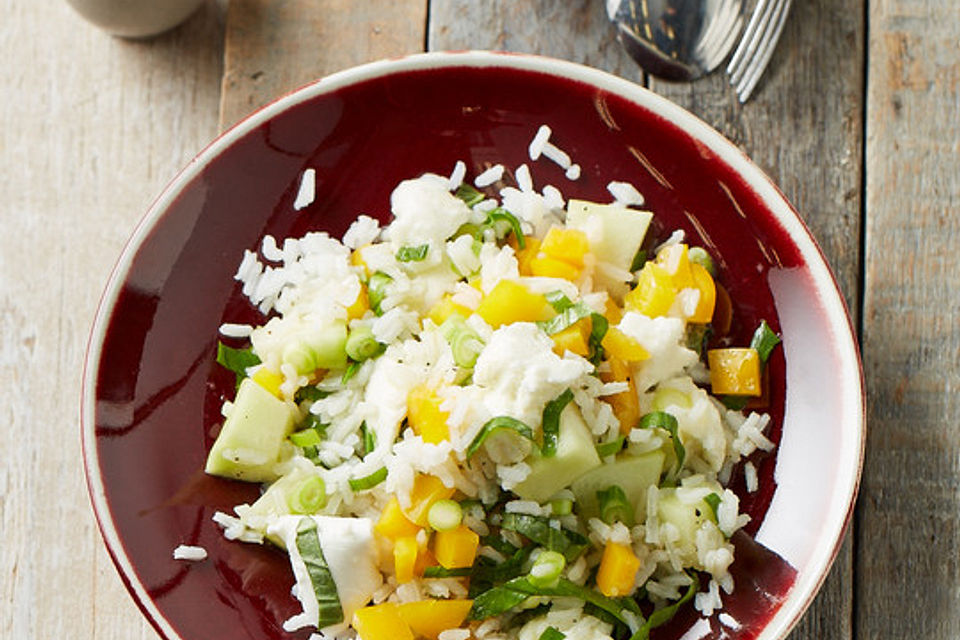 Cooking tasteful, heart-healthy meals containing less sodium has been quite a challenge. My husband, who now after his bypass surgery is considered a heart patient for life, has not been very helpful. The times of juicy burgers and fried foods are over. Sodium loaded soups, chili's, stews, and gravies have been banned from my kitchen.
Almost everything he enjoyed eating, is now off-limits -only occasional cheating is allowed in moderation. It is hard on him. How much easier life seemed to be before the doctors detected his blocked arteries.
He is rebellious and I tried to make the transition as easy as possible. Teaching an old dog new tricks requires something like magic, so it seems.
It's grilling and smoking season. Whatever time then summer to try new recipes.
Melon-Rice Salad
Ingredients:
1 1/2 cups rice
1 yellow pepper, diced
2 Green onions, thinly sliced
1/2 of a melon (Cataloupe, Galia Melon or Canary Melon)
150 g Fresh Mozarella (or mini balls)
Fresh Basil, chiffonades -don't hack it because it turns black
1 Lemon (Juice)
2 TBS White Balsamic Vinegar
4 TBS Extra Virgin Olive Oil
Pepper (No Salt)
Add low sodium seasonings like Mrs. Dash or Herb de Provence
Throwing it together:
Cook the rice according to the package instructions, then let it cool.  In the meantime rinse, core and dice the bell pepper. Clean and finely chop the green onions. Peel and core the melon and cut into bite-size pieces. Cut mozzarella in bite-size pieces and mix everything with the cooled rice.
Cut the basil into fine strips (Chiffonade) do not chop, otherwise it turns black.
Mix lemon juice, vinegar, pepper and seasonings for the dressing, and fold in the olive oil. Mix the dressing, basil and rice and let them soak in the refrigerator for at least 1 hour.
Enjoy~!