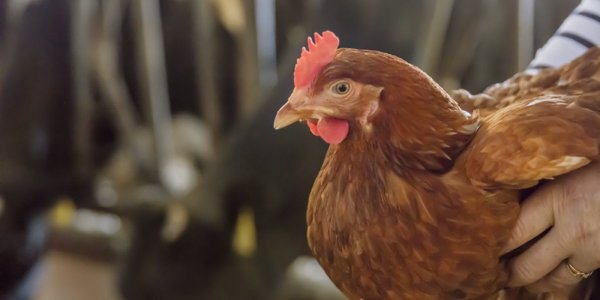 According to my Grandma, the best chicken noodle soup starts with sharpening the ax and getting the old woodblock ready. Then you pick out a chicken and after you catch it, you talk to it nicely, you pet it one last time and you say THANK YOU, after all, it has given you plenty of eggs throughout the years and now it will continue to give you one last meal. You cover the chicken with your old cardigan and carry it to the old barn, where the axe and the woodblock are waiting.
At the moment you uncover the chicken, you gently place it on the old woodblock, hold it tight, and quickly, with on stroke, severe the head from the body.
The first time I watched it gave me nightmares for days. The headless chicken jumped off the block and run a few steps until it collapsed. Just like eels, who can jump in your pan long after they are dead.
In a chicken, the movements are not exclusively controlled by the brain, but also by the so-called ganglion, which are clusters of nerve cells. These are located in the chicken's spinal cord, and if you chop off the animal's head, the spinal cord is still completely intact. Therefore it is possible that a chicken will flutter around a bit after it has already been beheaded.
When I think of my childhood in the Austrian Alps, I remember the variety of animals, the pigs, chicken, rabbits, goats and cows that we raised ourselves and slaughtered at home. I didn't want anything to do with it, but soon I learned that EVERY WOMAN NEEDS TO KNOW HOW TO DO IT. My grandma's words and now, so many years later, I happen to agree with her. Perhaps if we all would know HOW TO DO IT, we would be more critical and protest against today's slaughterhouses and animal death camps.
I didn't like the butchering or the stinking dung heaps, however, I loved the barns and cowsheds which offered plenty of space to play hide and seek. I remember the variety of plants, wheat, barley, oats, beets, potatoes, currants -even tobacco and of course, there was something Americans would call MOONSHINE -our home-brewed farm medicine- which could cure inside and outside almost everything.
I loved the animals but also understood their purpose. Not all animals were our pets, some fed us and as long as we treated the animals with the respect every living creature deserves, nothing was wrong with it. I never had to kill a chicken, but I watched and learned, and today, so many years later, I know I could do it in a heartbeat -for feeding purposes only.
Perhaps my upbringing makes me today a picky meat eater. I like to know where the animal on my plate is coming from and I want to know what it has been fed. Cows don't eat grain, so don't make them. Select fruits, vegetables and grains will keep chickens happy and ensure they are receiving a nutritionally balanced diet.
I got sidetracked. I wanted to share my Grandma's chicken noodle soup. It's day #6 in self-isolation. It feels a bit surreal to know that COVID-19 had found a way into our home. We are in good spirits. Both sniffling and coughing a bit, we don't have a fever, just a head-cold.
It was time for my Grandma's home-made chicken noodle soup.
Ingredients:
1 Whole chicken
1 Onion
1 Garlic clove
1 Ginger knob
1 Celery root
2 Celery stalks, thinly sliced
1 whole carrot
4 large carrot, peeled and thinly sliced
1 Leek, washed and cut into slices
2 cloves
A pinch of Safran
Salt
Red pepper flakes
1 dried bay leaf
1/2 tsp black peppercorns
Green onions, thinly sliced
4 ounces thin soup noodles, cooked in an extra pot
Parsley, for garnish
Directions:
Place the chicken, leek, celery root, whole carrot, bay leaf, saffron, peppercorns, and 1 tablespoon salt in a large pot. Add enough water to cover completely and bring to a boil, add the chicken and simmer for about 2 hours.
Remove chicken and continue to simmer the broth while you discard skin and remove meat from bones.
Strain broth through a fine-mesh sieve into a clean pot and discard solids. Add sliced carrots, shredded chicken and celery to broth and bring to a boil. Reduce heat and simmer until vegetables are very tender about 25 minutes.
Cook egg noodles in a pot of salted boiling water according to package directions -drain.
(Nutmeg, yellow curry, soya sauce -optional!)
Enjoy!