Watching The British Baking Show on Netflix brings back so many memories of cakes, pies, and Torten my Grandma used to make. Turns out they actually have names, and it's not just the pear-thing-with the-funny-shape I remember eating as a child. Pastries from the UK, Belgium, Poland and the rest of the world -even Austria where I happen to be from- are introduced in the baking competition, and I am having a good time watching it.
I start to sound a bit British when we watch the show, which mixes nicely with the sick European accent I have anyway. Everything is RUBBISH now -a word I always liked- and I heat up the WAH-TA for my tea, instead of WATER. Gratefully, my new British accent disappears as soon as we turn the TV off.
People often ask me if I am homesick and I always shake my head. How could I be possibly homesick after so many years living in the United States and being an American?
But I do miss the Austrian, German, and Italian bakeries, and I suppose that's one of the reason why I love The British Baking Show so much. I see some of the culinary calorie bombs from my childhood and long-forgotten memories, tastes and smells seem to find their way into my home. Now, all I want to do is bake, and the fact that I am a wonderful cook but not a talented baker is just no hindrance at all -neither is the fact that I live a gluten-free lifestyle.
I learned a lot just by watching. Turns out you can't improvise much when you bake, so eyeballing instead of using a measuring spoon and measuring cups when adding ingredients is a recipe for a baking disaster. Also, turns out you actually wait until the cake has cooled down before you put on the icing -who would have thought? It's magic!
No more baking shenanigan's in my kitchen, from now on I will make my Grandmother proud and measure everything like a Zuckerbäcker (Austrian Name for the baker, meaning the sugar-baker.)
The Austrian coffee-houses, yes, I do miss them. So much tradition, so much history.
When the Turks had to break off their siege of Austria in 1683, they left 500 sacks of coffee behind and a resourceful Polish merchant opened the first coffeehouse in Vienna. By the end of the 17th century, they already grew coffee in greenhouses.
You have to experience the Austrian coffee-house to understand it. The writer Stefan Zweig described it as "A special kind of institution that cannot be compared with any similar institution in the world". And indeed, there is a very special atmosphere in the coffee house.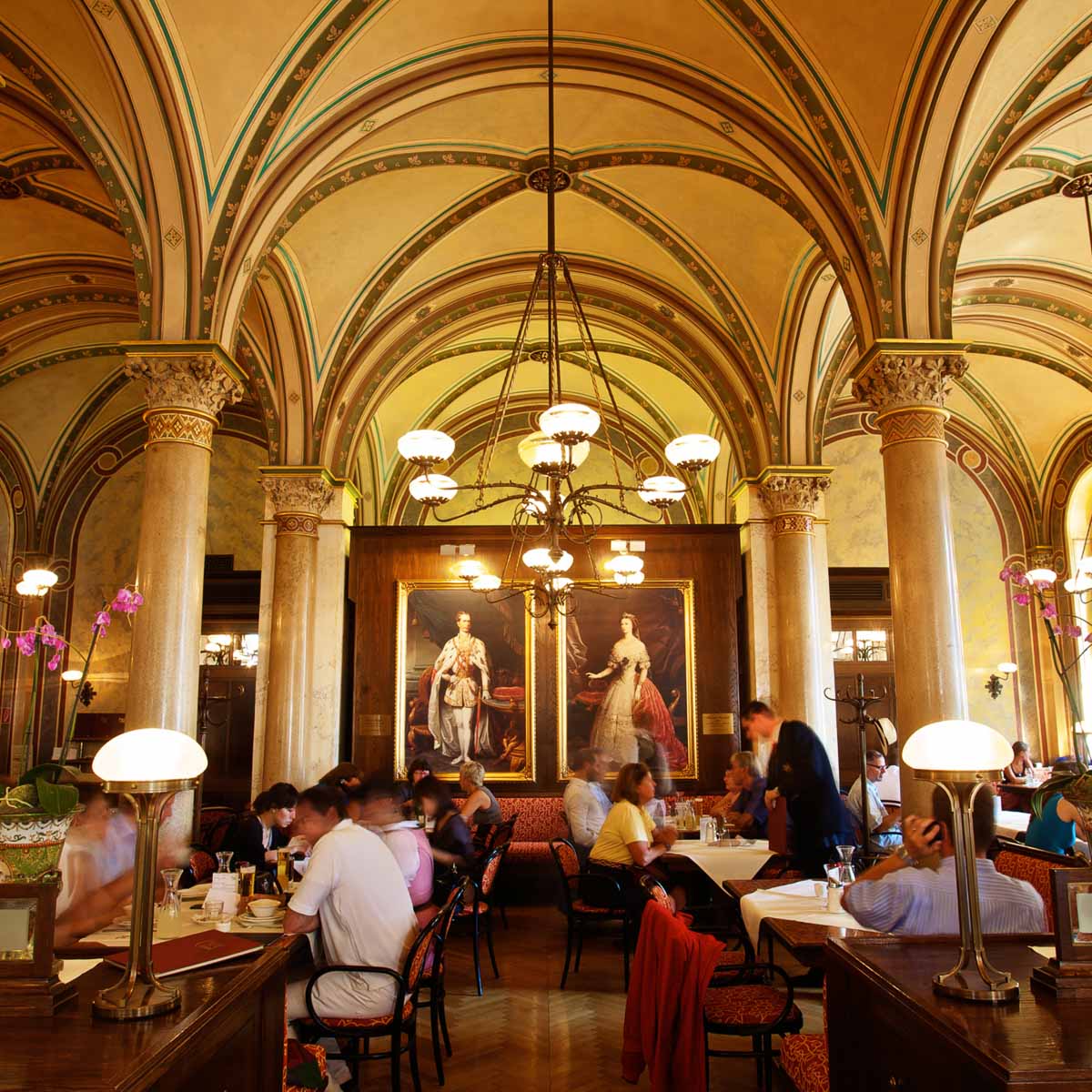 People don't just meet to drink coffee, but to read the newspaper and to exchange ideas, to play chess, billiards or cards, to drink or to enjoy the sweet idleness. You sit on softly upholstered velvet chairs and benches, eat from a marble table and you can secretly observe the other guests in large mirrors.
I remember my first trip to Vienna when I was just a little girl. My Grandma had allowed me to come with her and I sat quietly through the boring adult meetings. I got my first cup of kids-coffee, which I learned later was a mix of hot chocolate, milk and a tiny bit of coffee.
It had taken me ten minutes to choose a piece of TORTE, everything looked so impressive and delicious. I wanted it all, but could barely finish the piece I got. Not knowing, I had chosen the world-famous Sachertorte and when it was served I felt like a little princess. The Austrian chocolate cake was served with a dollop of unsweetened whipped cream on the side. Sitting on a phonebook -because I wasn't tall enough to reach the table otherwise- I enjoyed a piece of heaven.
A piano player started playing soft classical tunes, people spoke quietly and everybody looked elegant, so different from the people in our small village.
The guests were often artists, writers, and intellectuals who used the coffee house as a second living room -some even had their mail sent here. Elias Canetti, Sigmund Freud, Oskar Kokoschka, Karl Kraus, Arthur Schnitzler, and many more belonged to the Viennese coffeehouse clientele who not only consumed the culture, but also helped shape it.
The old coffee house culture is still alive today in Austria and in Vienna. The interior often corresponds to that of back then, there are newspapers from all over the world in many languages, and sometimes billiard tables. Today, in addition to the traditional cafes, there are also a large number of modern cafes and coffee bars that focus on coffee beans and their preparation.
So many wonderful memories brought on by a TV show.