The man who is trying to save the world is standing in a nursery in a Connecticut home. He's got his laptop in front of him and the sun is shining through the window onto a crib. A mobile is turning in the wind.
Benjamin Schreiber is barefoot, his hair tousled. The 46-year-old looks like he's just gotten up, but just like almost every day, he's been up since sunrise. Schreiber's job is among the most important and difficult in the world. As the deputy head of immunization for the United Nations Children's Fund (UNICEF), he is in charge of ensuring that 2 billion doses of vaccine against COVID-19 reach people in the poorest and most remote countries in the world.
The German works on a standing desk. A woman and two men appear on the laptop screen in front of him, colleagues from UNICEF based in Panama and Haiti.
Schreiber discusses his "headache" for the day. Two countries where progress has stalled. Referring to one, a nation that is difficult for outsiders to access, he says, "It's not clear how things are going." In the other, Haiti, a first potential shipment of vaccine has been delayed. The vaccination team seems to be ready, but political and social problems are blocking the shipment. Fuel in Haiti is expensive, roads are poor, budgets were miscalculated. Many Haitians also distrust Western aid and some don't believe in COVID-19 in the first place. So, what now?
Schreiber has conversations like this every day. On a small scale, they often involve questions about the right way of cooling a vaccine, about finesse in dealing with governments. But the core issue is always global justice.
The novel coronavirus has spread to every continent and infected at least 128 million people worldwide. It has wrecked economies and destroyed families. A global health emergency has been in effect for over a year now.
But even as the first citizens in several industrialized countries are finally getting protection from the virus, many people in Africa, Asia and Latin America are still waiting for vaccination to get underway.
So far, nearly 600 million doses of vaccine have been administered around the world. But nearly two-thirds of them were given in only six countries. About 60 percent of Israelis have been vaccinated at least once, just under half of all Brits and one in 10 Germans. In Namibia, which has a population of over 2 million, less than 1,500 have received shots. In other African countries, no one has been given a shot yet.
Earlier this year, Tedros Adhanom Ghebreyesus, the head of the World Health Organization (WHO), warned of a "catastrophic moral failure."
An attempt is being made to prevent this failure. A project called COVAX, a kind of international buyer's club to purchase and distribute COVID-19 vaccines. The World Health Organization (WHO) founded the initiative a year ago, and the vaccine alliance called GAVI and the Coalition for Epidemic Preparedness Innovations (CEPI) are also participating, as is nearly every country in the world.
The goal is for the 92 poorest members to receive as many vaccines as quickly as the 98 richest. The rich countries pay more money into the initiative and the poorest are meant to get discounted or free vaccines, with the aim of allowing each country to vaccinate one-fifth of its population by the end of the year. Schreiber's employer, UNICEF, is tasked with ensuring the vaccines reach their destination.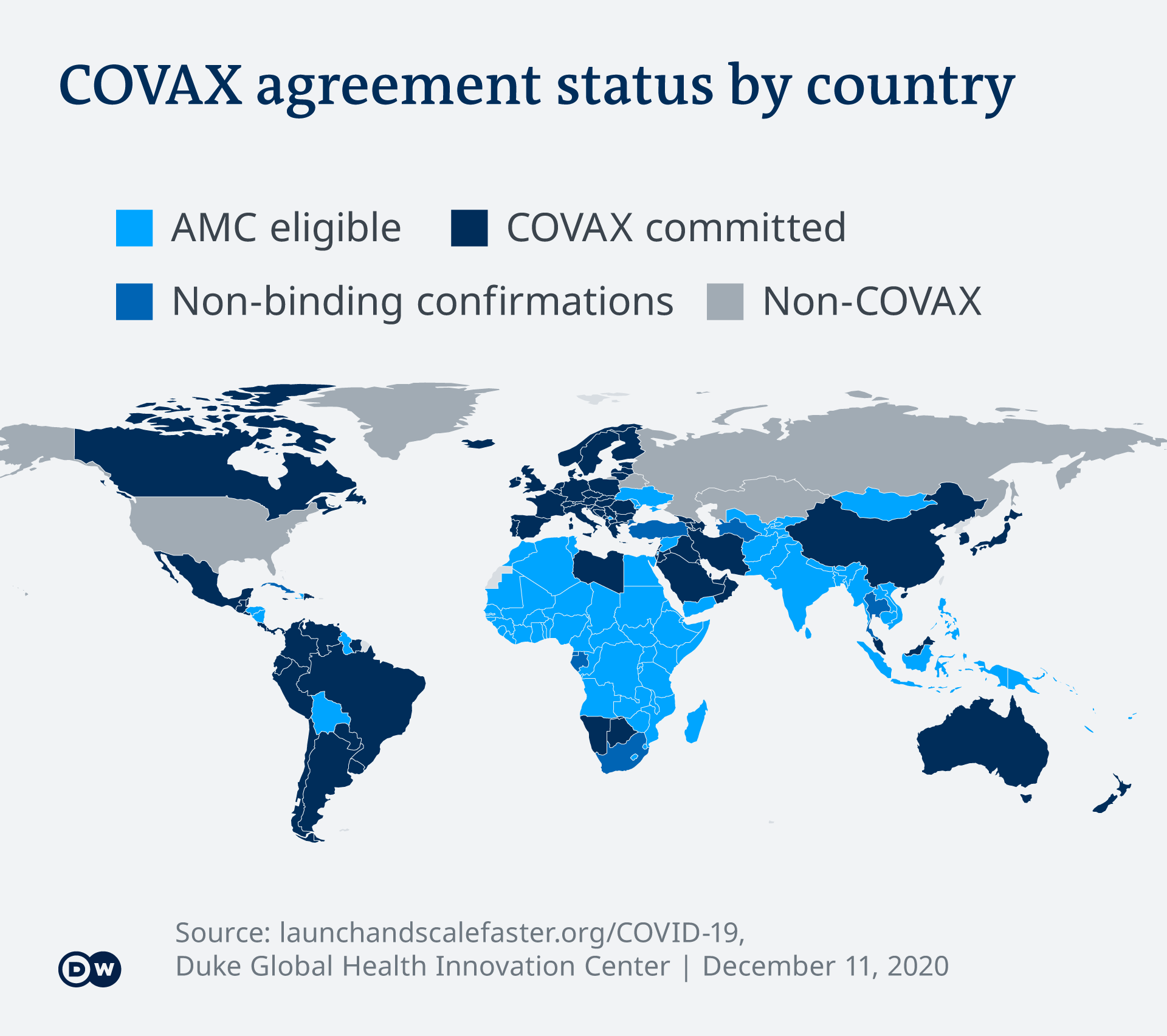 It represents nothing less than an attempt to equitably vaccinate all of humanity regardless of race or wealth. COVAX wants to make it possible for everyone to help themselves from one pot.
It is a project on a scale matched perhaps only by the fight against climate change. And as with climate change, time is of the essence.
The virus is constantly mutating. Most of the changes have no effect on the danger posed by the virus, but some – like the ones that emerged in Brazil and the United Kingdom –do. And the greater the number of countries that go through uncontrolled outbreaks, the more likely it becomes that the world will have to deal with further mutants, even one that might one day evade current vaccine protection. Even if all German adults are vaccinated by the end of the year, the virus could return one day even more dangerous than before.
So, how is it possible to vaccinate those who are most threatened – the elderly, the sick, health care workers – around the world? How can COVAX still achieve its ambitious goals?
While Schreiber conducts his video calls with people from all over the world from his wooden home in Connecticut, his young daughters are scrambling around him. His wife Priya, who is nine-months pregnant, occasionally stops by.
Schreiber, who doesn't seem like someone who is easily ruffled, sits down at the kitchen counter. He has worked at UNICEF for eight years. He says the biggest challenge last year was to "prepare the countries" in a short time.
COVAX's proclaimed goal is to ship about 2 billion doses by the end of 2021, which represents around 850 tons of vaccine per month and 1 billion syringes. Thousands of cooling boxes will have to be brought to the most remote corners of the world by Jeep, boat, drone and donkey cart.
Even in normal years, UNICEF vaccinates almost every second child in the world. But the children's aid organization has yet to face a global pandemic.
Vaccination campaigns are usually planned years in advance, but this time there were only a few months. The recipient countries are highly varied. Some have booming economies and others are failed states. Some have a few hundred thousand inhabitants, others more than a billion.
The countries were asked to explain in writing to UNICEF how they planned to manage the logistics of vaccination – which part of the population they wanted to vaccinate, and how they planned to distribute the vaccine from the airports to the rest of the country.
Schreiber read more than 100 of these lengthy plans, most of them twice. He tweaked them and made recommendations for improvements. Most of the time it went well, but sometimes it didn't work at all. The governments of Tanzania, Eritrea and Madagascar still dispute to this day that COVID-19 is a dangerous disease. And at the moment, nobody knows who is in power in the Central African Republic.
But the effort has been worth it. On Feb. 24, the first COVAX delivery landed in Ghana. The first delivery for Haiti has also now been planned. By the end of March, UNICEF had delivered 20 million doses to 47 countries.
Most of the vaccine doses come from a country that itself isn't wealthy, but is extraordinarily important when it comes to global vaccine production: India. The Serum Institute of India has its headquarters in Pune, in the west of the country. The biggest vaccine factory in the world, it currently produces 2.4 million doses of coronavirus vaccines each day.
This is where the vaccine that is meant to reach large parts of the world is produced, at a price that in all likelihood cannot currently be replicated anywhere else.
A company worker puts on a white protective suit, a hair net and gloves before opening the airlock door to the lab. The valuable cargo rolls by behind protective glass. Fully automated nozzles fill the vaccine into glass vials. They measure only a few centimeters, but they could save entire economies.
Of the more than 39 million vaccine doses COVAX has shipped so far, 28 million have come from laboratories in Pune. The Indians are the main suppliers for COVAX. At the moment, they are mostly producing the British-Swedish AstraZeneca vaccine.
For a while, planes were taking off almost every day with vaccines destined for places like Djibouti, Brazil or Moldova. But in late March, India's government cut vaccine exports to a minimum.
The numbers of coronavirus cases in India are rising faster than they have in months and millions of citizens in the country of almost 1.4 billion inhabitants are to be vaccinated in the coming weeks, so the government in New Delhi has decided to stockpile vaccines. For COVAX alone this means a delay in delivering 90 million doses to 63 recipient countries.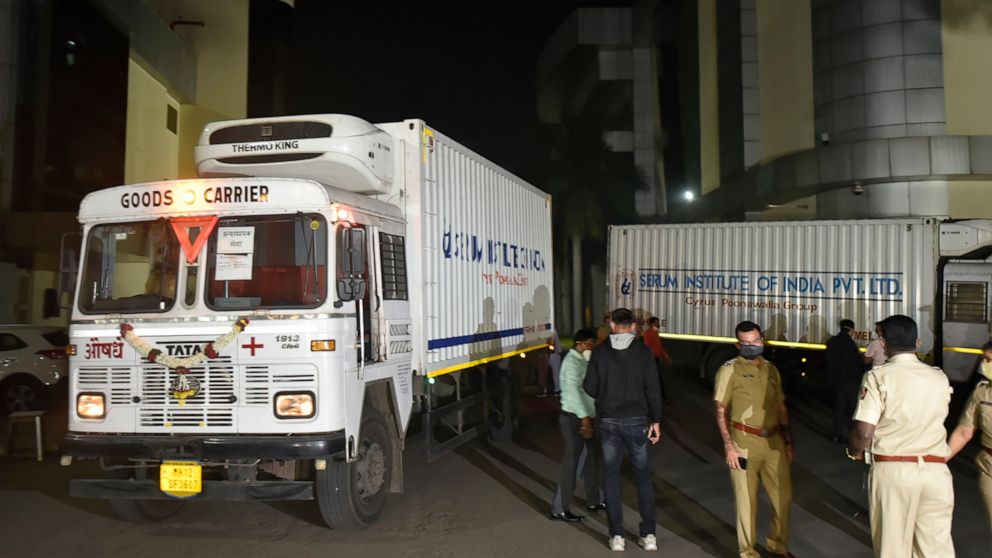 The bottleneck could last until May. A supplier in South Korea that could help is dealing with production problems. Right now, there is no other alternative to production in India.
About a year after the beginning of the pandemic, the development the international community wanted to prevent has now happened. The world is splitting in two, between countries that are vaccinating their citizens and others that are unable to do so and can only watch as the richer nations get their COVID shots.
"Nobody is safe until everyone is safe." That claim that could often be heard in the early stages of the vaccine efforts, including from German Chancellor Angela Merkel, from European Commission President Ursula von der Leyen, from doctors and helpers. It was a nice idea, that when facing the virus, we are all equal.
But the closer the first vaccinations got, the more nervous political leaders became, and the more anxious their citizens also grew. Instead of working together, the rich countries independently ordered vaccines, sometimes twice or four times as many as necessary. COVAX and low-income countries had to make do with what was left. It was no longer about every person's right to being protected, but about the survival of the strongest. To this day, that power dynamic has changed little.
To be continued…
---
Our news, which its never-ending breaking news circles, leave out a lot of information. Sometimes it seems that the rest of the world stopped existing for America.
I decided that from now on, once a week (or maybe twice) I will post NEWS on my blog!