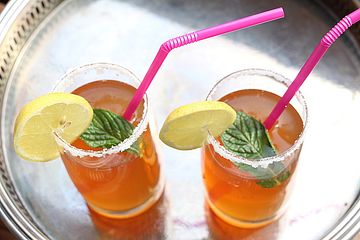 Living a rather healthy lifestyle these days, I was still searching for the perfect beverage. My beloved glass of red wine in the evening is long history and is only remembered when I look at my collection of wine glasses I once thought I could not live without.
I needed to find something to drink in the evening.
During the day, I drink more water than a camel in the dessert, even go occasionally overboard when I buy the Italian sparkling Pellegrino bottles, and on a wild day I even add some cucumbers or fruits to it. Still…something was missing and then I found it.
Ginger Ice Tea
Ingredients
2 Lemons (Juice and zest)
1 Ginger piece -thumb size
1 Bag black tea -any kind your like
1 fresh mint
2 TBS sugar (Honey or any other sweetness you can't live without)
6 cubs Water
What do do with it:
The recipe is partly from my grandmother Marie, it seems I inherited her love for ginger after all.
First I make the tea so that it can cool down. No mystery here, I put a bag of tea in hot water, let it steep for 3 – 5 minutes, remove the bag – done. I sweeten the tea with local honey (our personal preference) but sugar is fine too -or any other kind of sweetener. Without 'sweetness' it's too sour.
Then take the ginger and grate it. I always take a square grinder and put it on a plate. It has a good stand and the plate catches the root pulp and juice. I put in a container then I squeeze out the lemon juice and pour it in. I pluck the mint (if you like it more civil you can cut it, I just like to pluck) and add it to the lemon juice.
I fill all of this with water (cold from the tap) so that the aromas can dissolve (about 2 cups). After half an hour I sieve the lemon-mint-ginger mixture into a juice carafe, and press everything through a sieve so that nothing goes wrong with the wonderful aroma. I add the black tea and fill it up with cold water until the carafe is full .
Before serving, I add the ice cubes.
Note: I tried it with sliced Ginger, it didn't taste the same! The time grading the ginger is worth it.