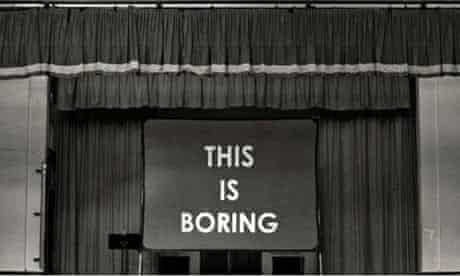 In 9th grade, after reading about Joan of Arc, we watched Carl Dreyer's 1928 The Passion of Joan of Arc, a French silent historical film. Some of the girls in our girl's only boarding school were quickly bored, and continued to look at the teenage magazines they had smuggled into the auditorium, the rest of us were mesmerized by the screen.
A few weeks later, we watched a rather unknown black and white movie with Spencer Tracey "The seventh cross." Seven men escape from a concentration camp. The Nazi's put up seven crosses and haunt the men down -one by one. All but one. A story about courage and compassion. A movie I have never forgotten and wish to see again, now 40 years later. It was in English, with German undertitles so we could understand.
Both were challenging movies, both could easily be rated as BORING or SLOW.
Have you seen "The Bicycle Thief?" Without a doubt, one of the best films ever made and if you haven't seen it? Why not? Because you don't like subtitles, or because it's black and white? Or because it's not an American movie?
There are no boring movies, just boring people who can't -or don't want to connect.
I find that people who are bored by challenging films are often people who do not read much, who are not interested in learning a foreign language, who have not travelled beyond a vacation to Aunt Betsy, and who have little genuine interest in other cultures or other histories.
The issue with boring films at its deepest level, I think, is the lack of interest in other cultures and in experiences that are more complex and do not immediately yield pleasure or emotion that pervades American society. A mistake that starts early in our school system. We are not behind because we are dumb, we are behind the rest of the world because we ignore the rest of the world.
The challenge for teachers -and parents- everywhere is to awaken some interest in boring experiences and most importantly, to unpack those experiences-because at their core they reveal surprising insights about who we are as human beings.
There is a world out there and it's ours to understand. The more we understand, the less we fear. The less we fear, the more open we are. The more open we are, the more we let in.
The more we come to understand our own humanity, the more we are able to understand and perceive the humanity in complex and challenging works of film or literature, and indeed, in other people. Good education is the key to unlocking the humanity that resides in all of us, in all its glorious, scary, joyful, and boring aspects.
Education is not only given in school. It starts at home.
From books and movies…to real life. What a small step it is, yet what big of an impact it can make.
Great films bring the world to us and even though we might not understand the language, we understand with our heart.
I fear for this nation. I fear for the world. I fear for our minds.
We are becoming cold-hearted, egotistic, narcissistic monsters.
A person who is bored and fails to explore that feeling, is a person who will always live within the status quo and who will let injustice happen. But the person who is in touch with his or her boredom and unpacks the wisdom in that profoundly uncomfortable emotion becomes an engaged citizen and human being.
We can't change the older generation, but we can make sure the young generations behind us will be better in formed and less bored.