The next time you see a homeless person on the streets remember me, please. As vulnerable as I come across writing about the time when we were houseless, they all feel the same way. Everybody has a story. Now, let's continue mine.
My friend did not smoke marihuana that night, instead, she opened a bottle of wine and we talked. I wanted to know everything about her Smokehouse-Kitchen-Dream. The day before I had spent another $25 at the Dollar Store for reading glasses, a notebook, markers, gingersnap cookies, and a box of latex gloves. I had $175 left. The cookies were a weakness and a luxury I couldn't afford. I had to learn to resist temptations.
She showed me the business cards she had ordered. A cute cartoon pig head grinned at me. The card had the address, the phone number, and of course the name of her sausage kitchen. She was so excited, it was fun to watch. I shared with her how we had made sausages back at home in Austria, and how I had been part of the butchering process from an early age on.
We knew each other for so many years, yet we had never talked about sausage making or meat processing before. I suppose there are many things in our lives we don't mention, until something triggers our memory. For a short while, I forgot about my own problems. Missing my husband tore me up inside. Not having a place to call home overwhelmed me at times so badly, I thought my heart would stop. How could I still be functioning, when I felt so much pain inside?
We talked about the other day in the kitchen, and I told her what I had seen. I opened my notebook and looked at my friend. I knew some of what I had to say, would bring her down to earth a bit. I had so many questions, and some suggestions as well. What if she wouldn't like what I had to say?
I shared my feelings with her and we decided to separate our friendship from the 'sausage business.'
I trusted her completely. She was my savior. Would I ever be able to repay her, not just in money but in actions? Are there better words than just "Thank you"? Is there an amount of money or goods that pay off kindness? And if you pay it forward, how often do you pay it forward? Once, twice or for the rest of your life?
"Teach Ben how to make sausages, teach him everything you know," my friend had asked me. Of course, I would do that, it was the least I could do. It was Thursday evening. We decided to start the SAUSAGE SCHOOL on Saturday, so she would be off work as well.
And so it began.
I was downright terrified. What if I wouldn't be able to remember everything my grandma and our butcher had taught me? What if I would not rise to the occasion? What if? What if? What if?
My self-esteem was at its lowest point. The confident woman I once was, had turned into a nervous wreck. Nervous as a squirrel, always fearing the worst. My endless optimism had taken a serious beating and the silver lining stayed hidden behind dark clouds. I had nightmares, woke up sweating bullets in the middle of November. I saw us begging on the streets, our dogs beside us. A vision I hoped would never come true, yet it seemed so far in reach.
November 2009. On TV they talked about the end of the recession. The economy created jobs again -yet were we lived the people couldn't find work.
On Saturday I wore my oldest jeans and a pair of hiking boots. Why had I taken the hiking boots with me when I had packed to leave our home? I have no idea, but they would serve me well. It was raining outside, the way to the kitchen was muddy.
I don't know how Ben had reacted when my friend told him I would be his teacher. My instinct told me he was as fond of me, as I was of him. Nevertheless, we greeted each other very friendly. He smiled, cleaned his hands on his dirty jeans. "Let's make some sausages," he said and I nodded.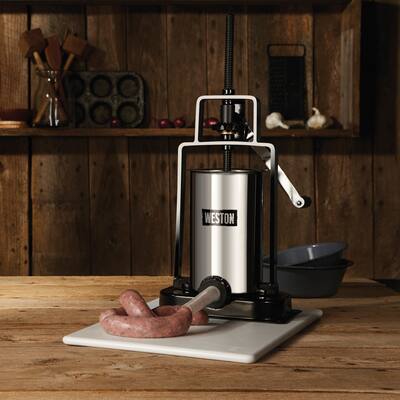 Again, it was too warm in the kitchen. I turned the heater off and threw the box with gloves on the aisle. "From now on we wear gloves when we touch the meat or the sausages, after all, we want to sell them to strangers." There is was my first drastic change of many more to come.
The kitchen building was a dream come true. A counter-high small reception area at the right side of the entry. Tall freezers on the left and right sides in each corner. Two small plastic chairs for customers to sit.
A large island in the middle, a shiny, brand-new sausage stuffer had been bolted to the counter. Cabinets underneath offered enough space for pots, pans, and supplies. A large fridge with a freezer, a stove with an oven, another counter with a meat grinder, and a meat mixer. A large stainless steel sink with three departments had been mounted to the back wall. A toilet and a sink were hidden behind a door.
"So what's on the agenda today?" I wanted to know. The chef-sausage-maker shrugged and grinned. "I don't know," he told me and looked at my friend. She looked at me.
We had talked about it the night before but had been side-tracked. How many different kinds of sausages did she want to make. She didn't know, neither did I. How many Cajun sausages are there? And most importantly, who would buy them?
"Let's make Boudin today, both the regular and the jalapeno Boudin, and fresh pork sausages, so we can smoke tomorrow."
My friend nodded and went back to the house.
"Tomorrow is Sunday," Ben reminded me.
I didn't care. I had something to do, what day it was didn't matter but he had kids and I understood.
"I will smoke the sausages tomorrow," I offered and told him we would meet again Monday morning.
"What does a woman know about smoking?" he laughed and I swallowed a smart-ass remark. Now was not the time!
I had something to do! I wanted to dance down the gravel road. I had a job, one that wouldn't pay anything, but one that would repay a bit.
I wasn't used to do nothing. I always joke that one day I would stay in bed for a whole weekend. I never did? I had worked all my life. I had chores in boarding school and on the farm. I started working after I graduated, had numerous jobs to make ends meet and pay for college -like so many of us. I felt useless with nothing to do.
No wonder so many homeless people drink or do drugs. It's the boredom that overwhelms you. I had too much time to think and I had started lingering in the past. "What if…" was now my best companion. Where had we gone wrong? What if? Why did we lose everything?
I watched Ben handling the meat and corrected him often. The mixing part was too important, yet he didn't seem to understand. I explained why the casings had to be rinsed. "Keep them in water in a container close by until we use them or they dry out." Finally, we mixed the cooked rice with the grinded meat, and we were ready to stuff the first string of sausages.
I got a pan out, made a patty, and fried it on the stove. "It's important to always have a test-bite before we make sausages," one of the many things my grandma had made sure I would never forget. Make sure it tastes right before you waste a lot of meat.
The shiny sausage stuffer looked so impressive. Was it bigger than the one we had used back home? Ben filled it, pulled the casing over the pipe and cranked the handle. Wearing gloves bothered him, he made sure he let me know about it -numerous times. His sausage string looked pitiful. Inconsistent in thickness, too many empty pockets with air bubbles. I needed to show him but what if I couldn't do it right either? So much time had passed.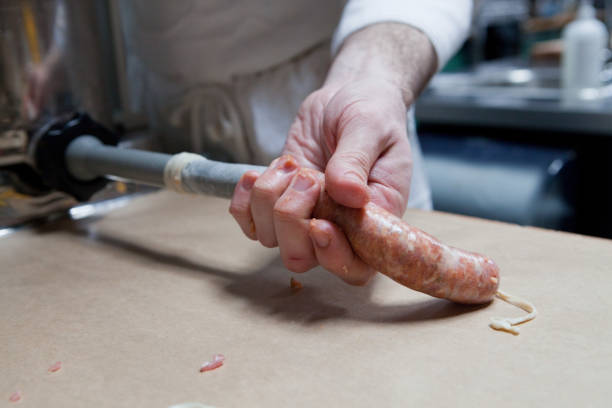 Nevertheless, I took over and slowly started stuffing a new casing. After a few seconds, everything I did felt familiar. I inspected the long casing, opened two or three air bubbles -because nobody is perfect- and then I linked the first sausages carefully, and soon I swung the casing around just the way my grandma did.
We made 100 pounds of Boudin sausage that day and 75 pounds of fresh pork sausage. My friend only shared the meat ingredients with us, the spices she would keep a secret and I understood.
I got a keyring with her house keys, her car keys, keys to the sausage kitchen and the supply shed. I had keys again, keys that actually opened or closed something. I had missed having working keys. The old keys in my purse were worthless and just a relic of the past that didn't exist anymore -a remembrance of what once had been. I needed to let them go. The house, my car, the shed -all were gone.
Homeless people don't have keys, there is nothing they can open or close, no place they can call home, no safe space for their belongings.
In the evening, I told my husband everything about my new job. I was useful again and I had keys.