My husband had taken a serious beating. His business, his pride, and his joy for so many years, no longer existed. We owed money, we had lost our home, we soon would lose the car, and he could no longer provide for us. I knew what it did to him, maybe that's the reason why I could be so strong back then but it didn't last. One morning I got up, and I could not find the energy to go to the bathroom. What day was it? My friend was still at home. Was it Saturday or already Sunday?
I let myself fall back into bed. I smelled the coffee, heard them talk and I didn't care, all I wanted to do was sleep. I can't recall if I ever made it to the bathroom, I assume I must have. I slept until noon. I heard them whisper, they were standing on my bed, debating if they should wake me. I didn't want to open my eyes.
"I am tired, I am unbelievably tired," I mumbled, turned around, and pulled the comforter up to my nose. They brought me orange juice. Why do people always bring you orange juice when they think you need something to drink? I obeyed to get them out of MY room and went back to sleep. I did not get up that day, I just couldn't. I didn't want to. My body felt so heavy, I felt dizzy and exhausted. My eyelids didn't want to stay open.
My husband took over in the kitchen that day, they closed up early and watched a football game. It was Sunday after all. It was snowing outside, which is rare in this part of the country. I could hear the wind, I could hear them talk, I dozed off.
I had been going and going until my body told me to take a break.
The next day when I got up, I still felt weak. Again, my husband took over. He run the kitchen, went back and forth to the smokehouse, took care of me, and made sure all the dogs were fed. He called my friend at work, told her to pick up dinner on her way home.
I still felt a bit weak, at lunchtime, thought a short nap would help. I asked him to wake me, which didn't work just like it didn't work back then when we were young. He has his stubborn moments when he pretends he hears me but ignores everything I say. When we were young it was a moving truck. We had been emptying our old apartment all day long. We had loaded the truck and had driven to the new location. It was late when we arrived. We started to unload, soon it was midnight. "Lie down for a bit honey, I wake you in an hour, then I rest and you can work." He didn't wake me, he unloaded the truck all by himself- all night long. When I woke up, it all was done.
He is my hero, my knight in shining armor, the love of my life. The other day I told him about the posts I have written so far. He knew about it, I wouldn't have started to write so openly about our LOSING TIMES without his blessing. I asked him what he remembered most about back then, and his answer surprised me. He brought up some moments I cannot write about.
Like we had no care in the world, we acted a lot like newlyweds around Christmas and the months after. We felt vulnerable but also very close. How lucky were we to have a partner by our side? How can anybody go through times like this alone is beyond me? We were so fortunate, we had each other. We would make it…somehow.
He started telling me every day. "Honey, we are going to be alright," and I needed to hear it. He was my safe haven in stormy waters. He can get so aggravated when little things go wrong but whenever it gets BIG and SERIOUS he is rock solid and surprisingly calm.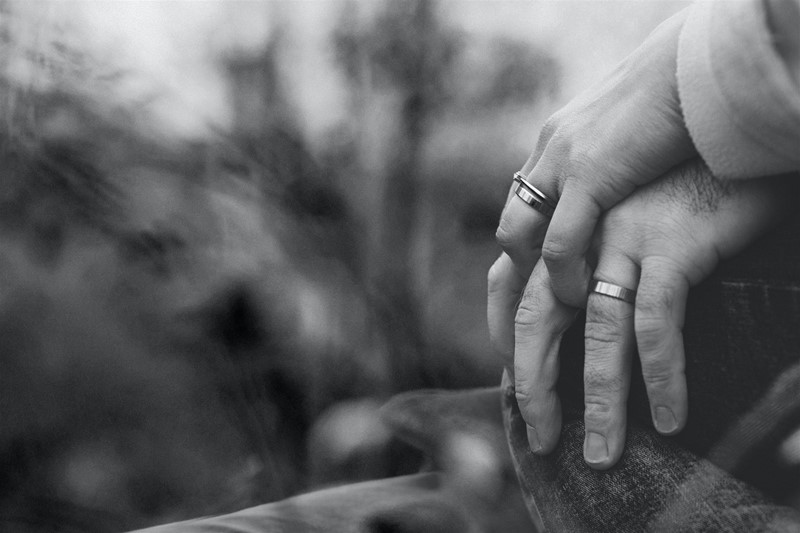 He let me run the sausage kitchen because he knew I needed it, and he needed time to come to terms with our new reality. He helped me to be at my best by helping me -as he always has. There was so little we both could do.
Behind every great man, there is a great woman. Behind every great woman, there is a great man. Behind every great couple, there is a great love.
My weakness that day, when I couldn't get up, had woken up my husband. His demeanor changed. His thoughts stopped lingering in the past and soon we would start to talk about our future. Still scared but confident.
When there wasn't much left, we moved closer together.
We often just exchanged a look, to make sure the other one noticed a special moment as well, heard what just had been said. Or we just ensured each other that we looked out for one another. If you really want to know if a marriage is happy and healthy, watch how they interact with each other without words. Do they search for one another in a crowded room? Do they smile with a twinkle when nobody is watching?
When they tried to weaken us, we stood the strongest!
My husband often calls me his angel, which could not be further from the truth. I am not his angel, he is mine.
When I fell in love so many years ago, my heart had chosen wisely. With the right partner by your side, even though times can turn into memories you will cherish for many years to come.
The vows we speak when young, the promises we make, they all might get tested one day. In sickness and in health, in poverty or wealth.
What does it take to be happy as a couple? Money? House? Car?
If you are happy wealthy, you will be happy in poverty as well. Take the house, the car, the brand jeans, the fake nails, unnecessary luxury, and the money away. What's left is who you really are. Alone and together.
The truth is, I never was prouder of him (and us) as I have been back then.
Our vows tested us. We passed!
---
This is not fiction, but our story. A few readers thought it was a novel I had started writing, which flattered me a bit. Life writes the best stories and I happen to have lived a few -not always by choice. It writes itself and it gives me the joy (and a bit of pain) of reliving some of it. So much seemed clearer now, so much doesn't seem so bad anymore. Times works
The category "Losing it all" is from start to finish the time in our lives between November 2009 to probably March 2012 or 2013. I will leave a few things out but not much.
Thank you for reading!