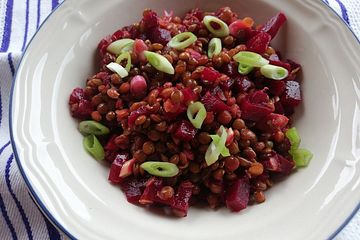 I love to cook and I enjoy good food but these days I have to listen to my body, which is attacking me at all times if I don't eat right. Autoimmune disorders, in my case an inflammation that affects my small joints. Pain, and joint stiffness, endless fatigue, and brain fog I should get a patent for. All gone if I stick to a healthy diet. Too much protein is my downfall, sugar drives me mad, gluten inflames my gut, dairy, including my beloved cheese, has become my archenemy.
What's left to eat? How can I live with all these limitations?
Turns out I live and eat very well.
I have decided to share some of my healthy recipes and my lifestyle, as well as the Austrian, German, and Italian recipes and foods I grew up with.
Today, red lentils and beets, because you know, the eye needs to be entertained as well. What looks good, mostly tastes good as well.
Ingredients
1 cup Red Lentils or French Lentils (Champagne Lentils)*
1 Tsp Cumin
1 Tsp Curry Powder
350 ml Vegetable Broth
4 Green Onions
1/2 bundle of Parsley
4 small Red Beets
1 Tsp Mustard (Dijon)
3 TBS Organic Apple Cider Vinegar
4 TBS Extra Virgin Olive Oil
1 TBS Local Organic Honey (to taste, depending on the beets)
Salt and Pepper
A Pinch of Love
Preheat the oven to 350F. Wrap the beets in foil and roast them for about 45 minutes or until tender. Let the beets cool, peel them, and cut them into small dice.
Heat 1 TBS Olive oil in a saucepan, and sautee lentils, cumin, and curry. Deglaze with the vegetable broth and let it simmer for 10 minutes. Drain the lentils and transfer them to a bowl. (Lentils get mushy quickly, I prefer the Champagne Lentils aka French Lentils.)
Wash and cut the green onions in thin rings, wash the parsley and roughly chop the leaves.
Prepare a dressing with mustard, honey, vinegar, salad, and pepper, and add the Olive oil gradually.
Add the beets, the green onions, and the parsley to the bowl and mix with the dressing.
Season with salt and pepper.
Jetzt erst die Linsen mit Rote Bete und Frühlingszwiebeln vermengen. Das Dressing und die Petersilie untermengen und mit Pfeffer und Salz abschmecken.
Enjoy!~