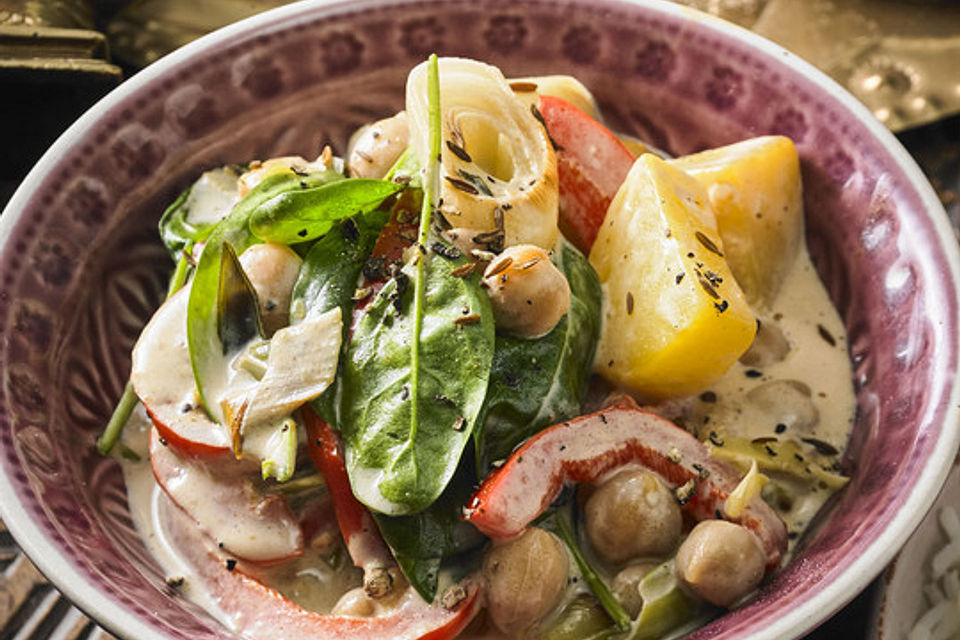 I have Rheumatoid Arthritis and Celiac Disease and because I dislike pain, and much of the pain is food-related, I eat mostly vegan meals and cook healthy dishes. Many of them I found online, others I compose by using my older recipes and then I adjust them to my needs. NO dairy, NO meat, NO gluten, NO sugar, NO GMO, NO processed food, but, surprisingly enough, it doesn't mean it has no taste or is not filling, it also doesn't mean it has to be expensive. YES to taste! Yes to health!
Ingredients:
2 Leeks (or 1 onion)
Minced Garlic (optional)
Parsley fresh and chopped
1 small Carrot, finely sliced
1 Red Pepper
2 EL Extra Vigin Olive Oil
3 boiled or steamed potatoes, cold and skin intact
2 Cups Spinach
1 Cup Chickpeas
200 ml Coconutmilk or Vegan cream (vegan yogurt)
3 Tsp Vegetable Boullion or Broth
Garam Masala
Cummin or ground cumin (optional but so much better with)
Chili Sauce (optional IF homemade or vegan)
Salt, Pepper
Throwing it together:
Cut the leek and the bell pepper into small strips. Heat the olive oil in the pan and sautee the leek in it at high temperature, add the peppers, the garlic, and the carrot, turn down the temperature, and stir.
Peel and dice the cold potatoes and add to the pan. Wash the spinach and ad it as it is, along with the chickpeas. Add a bit of liquid.
Season with the vegetable bouillon, Garam Masala, a few dashes of Chili sauce, and simmer for a few more minutes at low temperature. Add the cream or coconut milk and if necessary, add salt and pepper. (Careful the vegetable bouillion contains salt as well.)
It's one of the creatons I call "Fridge Cleaning Recipe" add vegetables to your liking. Tomatoes, curry powder. It's a healthy meatless dish and the leftovers are not too bad either. If you don't eat vegan, enjoy them in an omelette.