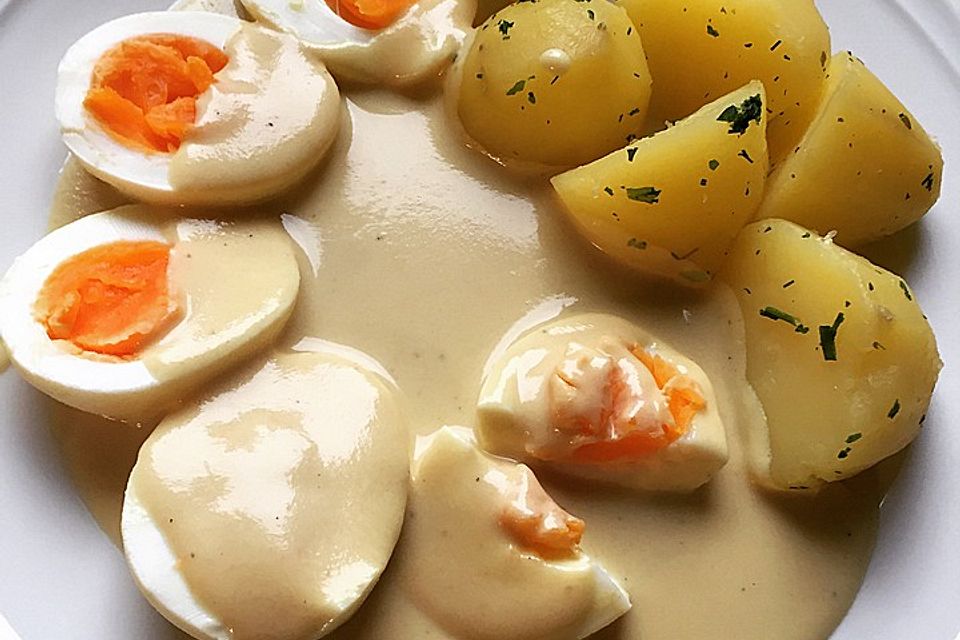 To this day on of my favorite dishes. My grandma in Austria cooked it often and while it's considered to be 'only a poor-people-dish it is loved by many in Europe. A nice way to serve a meal when you are on a tight budget or you want to have a meatless day. Kids love it, adults call it comfort food.
Ingredients:
6 Eggs, hardboiled (You can use poached eggs as well)
30 g Butter
1 TBS Flour (gluten-free with cornstarch)
1/2 liter milk
5 TBSP yellow mustard (medium-hot)
Salt, Pepper
A tiny pinch of sugar
1 TBS heavy cream or sour cream (if you have it)
Parsley or chives for decoration purposes only!
---
Preparation:
Boil the eggs hard.
Meanwhile, make a roux from butter and flour. Add the milk gradually and continue to stir vigorously so that nothing sticks or burns. Remove the pot from the stove. Mix in the mustard and season the sauce with salt and pepper and a tiny bit of sugar. Peel the eggs cut them in half and serve in the sauce.
Of course, you can also add spicy mustard to the sauce or if you like, you can add roasted onions and perhaps a little bit of crumbled bullion.
---
It might not look like a lot, but it is very filling.
Quick – Fast – Cheap – Easy!
Enjoy~!