My first and second attempts to draw and paint were brutal, I stumbled and crushed under my own expectation, the perfection I had in mind didn't happen. My painting was unclear and ugly. The beautiful scene I had pictured, had become a nightmare on canvas.
I am a designer by trade, help people to unleash their inner artist, support them to explore colors and patterns. I am known to gently push my customers outside of their comfort zone, but that's my job. I work with fabrics, colors, and stains, and I feel confident enough to not be shaken by trends.
I wanted to give painting another try. Every Christmas and birthday I wished for supplies. An easel, paintbrushes, watercolors, oil paints, finally I had it all together -paint wise. However, somehow I never felt brave enough to start.
I sat in front of an empty canvas, tried to find an image that I wanted to paint. Perhaps the old oak tree across the street, or one of our dogs that had passed away. How about a bird, or flowers, a landscape I had a photo of?
The old farmhouse and the mountains in Tyrol were so vivid in my mind. I started painting and a short time later, the disaster was finished. It wasn't what I had had in mind -not even close. I got so mad with myself. I just had to accept the fact that I am not an artist. My picture was hideous!
Then I read an article and it changed everything.
I needed to give myself permission to paint an ugly picture, preferable even a few, and to my surprise, this simple task set my inner artist free. How could I fail this assignment, after all, so far everything I had created fell right into the "ugly category."
I can imagine that at first glance it seems a bit strange to you when you have to paint an ugly picture but it's so worth doing it.
Most of the time it's the other way around and we strive to paint something beautiful that gives us praise and the recognition we all long for. We want to show what we can do and hide what we can't. We want to be at our best, be liked, and be proud of our achievements.
Paint an ugly picture and be proud of it? No way!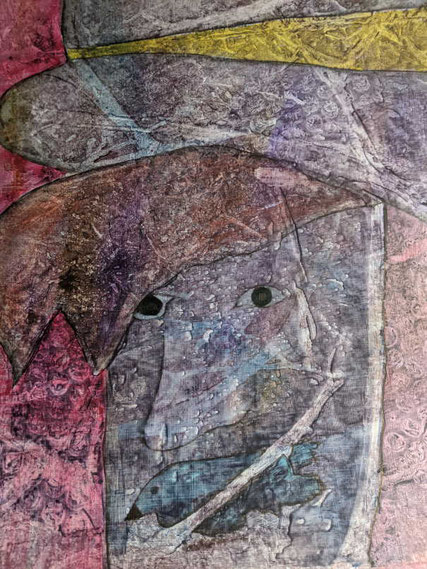 To openly show the seemingly ugly that we often suppress, that we don't like to deal with and that we don't like to share with the outside world? We all have fears and emotions like anger or sadness. We encounter things that repel and frighten us. Why shouldn't we be allowed to express all this in our pictures?
How do my nightmares look on canvas?
It can be very liberating and relieving to express all the ugliness -or our perception of it- through painting.
If you consciously break all the rules and paint an ugly picture, or at least allow yourself to get ugly, it's like a little test of boldness that expands your limits and gives you creative freedom. Everything is possible and nothing has to be accomplished. Painting and creativity take courage, but it's worth it because your world becomes big and wide, instead of small and restrictive.
How to paint an ugly picture?
It's so easy! Just do everything as usual -no, kidding -but don't forget you want to paint an ugly picture.
Grab your canvas and just start. Listen more to your feelings and less to your head. Your picture is getting too dark? Great, now get more black. The one part that looks pretty disgusting and daunting and you normally would paint over it? Put it in the spotlight. To orange or yellow? Don't sweat it.
The horizon line has to go to a certain height because of the golden ratio and so on? Nope, you're really putting them somewhere else now. You have learned not to mix too many colors at once because dirty mud tones are created? Use all the colors available to you and just see what happens. Is it getting too restless and chaotic now, says your head? Answer with wild doodles. I think you know what I mean.
Choose a scene you find ugly or boring, and then really poke about it on paper. Put all your disgust in your strokes. Feel inside yourself what feelings the thought triggers in you, and try to express exactly that when painting. Have fun doing it, be open, curious, and mindful on the way, the rest will come by itself over time.
Why should you paint an ugly picture?
As soon as we not only give ourselves permission that our picture does not have to be beautiful but even deliberately want to paint it ugly, there are no expectations, no failures, no mistakes. This also means fewer disappointments and negative thoughts and we just perceive it as it is. The picture may even be particularly expressive at the end so that you do not find it ugly at all, in contrast to a picture that should be beautiful and you have not succeeded as much as you would have liked.
Whatever the result may be, creating an ugly painting is so much fun. I had a good time and some of the results surprised me. It also allowed me to 'play' around a bit, not just with colors but with different paints, pencils, and all the other things I don't know anything about.
I am drawn to modern art. I like colors and bold presentations, so it comes as no surprise, I will never paint beautiful birds or stunning landscapes.
Beauty is in the eyes of the beholder. As for ugliness, that's debatable!